Item #SL-CKE02
Everyday Cleaning Pack
Cleaning maintains performance.
Hazardous item. May only be shipped Ground.
Keep your postage meters, sending devices, printers, copiers and fax machines operating at peak efficiency. Helps remove dried ink, dust, paper residue, and grime build-up. Machine should be cleaned each time ink or toner is changed.
The Pitney Bowes Everyday Cleaning Pack contains:
Two 8 oz. pressurised air duster 8oz (cannot be air shipped)
One 6 oz. anti-static office equipment cleaner
1 screen/mobile/tablet clean flat pack
12 dry, lint-free absorbent wipes
12 alcohol cleaning wipes
12 moist hand towlettes
25 swabs
pair of disposable gloves
1 reusable bag
This kit is recommended for DM300/400 and Connect+/P Seires mailing systems and mid -high volume office equipment usage.
One cleaning kit is appropriate for every three pieces of office equipment.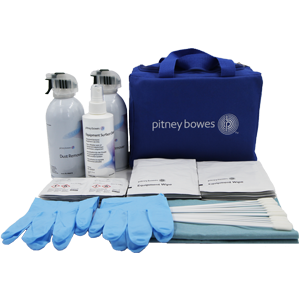 You may also be interested in: