Item #566-8C
Nebo Wireless Device
For: DM330L™, DM350L™, DM300C™, DM400C™, DM475™, DM800™, DM800i™, DM900™, DM1000™ or DM1100™
Microwave radio replaces the wire that normally runs from the phone jack to your computer
Works with the dial-up modem already installed on your PC
Uses 900 Mhz FM cordless phone technology
No batteries needed. Remote unit powered through USB connection
Works up to 300' from your phone jack
Allows you to move your equipment freely about your home or office
Great for PCs, fax machines or for downloading (postage, envelope ads, rates, etc.) to your Pitney Bowes meter or mailing system.
This unit does not work with a telephone for placing and receiving voice calls. It has been designed to work with the dial-up modem for your computer, mailing system, fax machine or any other electronic device needing internet access. Pitney Bowes recommends using a USB hub to improve performance when using this product with your mailing system.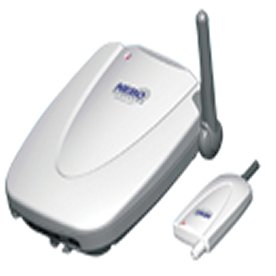 You may also be interested in: