Item #F900020
PowerGuard™ LE - Onsite Inline Power Filter Protection
For: SendPro® C, SendPro® C Auto, CSD3, DM100i, DM125i, DM300c, DM400c, DM475, mailstation and mailstation2
PowerGuard™ LE is customer installable. No need for service call.

Unstable power, fluctuations and surges can destroy your workflow. PowerGuard™ LE provides superior surge protection and power stability helping you to avoid these disturbances and improveoperational efficiency.
Protects your system without user intervention
Can reduce downtime caused by equipment failure related to unstable power.
Guaranteed Protection*: If your Pitney Bowes equipment ever fails as a result of power disturbance, we will provide professional onsite restoration and/or replacement at no cost to you*. *Guaranteed protection including professional onsite restoration and/or replacement requires purchase of separate Pitney Bowes Service Level Agreement coverage for the Pitney Bowes equipment.
3.5" X 6.5" X 1.625"
Input connection: AC – 5' cord with NEMA 5-15 or 5-20 plug
AC output connection: 2 NEMA 5-15 flush receptacles
Please note: This product will be shipped to the address provided. Device is customer installable and comes with simple installation instructions.
Item #765-9 is genuine Pitney Bowes postage meter ink to be used in the SendPro® C Auto, CSD3, DM300c, DM400c, DM475c postage meters. Pitney Bowes supplies are designed and tested within their respective postage meters. One red ink cartridge will yield up to 7,000 impressions. The 765-9 cartridge does not prematurely dry up. High print quality is assured each time.
Our SendPro® C Auto, CSD3, DM300c, DM400c, DM475c postage meters and red ink have been approved by the Canada Post. Our meter ink fully meets all Canada Post requirements. We recommend the use of only genuine Pitney Bowes supply products within our line products.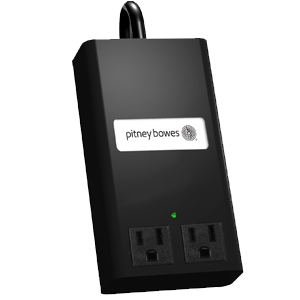 You may also be interested in: